Customer Testimonials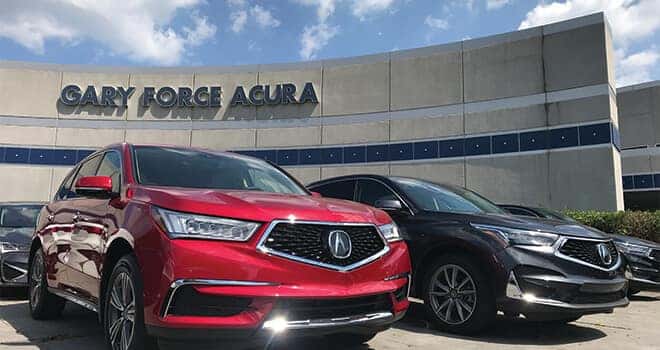 Google Jul 31, 2021
Purchased a RDX from Gary Force Acura and the salesman, Mike Lowe, was outstanding. Their service manager, Joel Trail, also is excellent and operates a top notch service department. This is a super dealership to deal with.
Google Jul 31, 2021
I always appreciate the staff at Gary Force Acura. This time I worked with Samantha. She was friendly and professional. She kept me updated, which is very important to me. The reason for my 4 star review is that I dropped my car off with the expectation of getting my vehicle back later that day but my vehicle was not ready until mid-morning the next day. I intentionally scheduled the service for my day off since this is a 45 minute drive one way and having to pick up my vehicle in the middle of my work day was very inconvenient.
Google Jul 30, 2021
Thank you Todd Murray auto sales professional with Gary Force Acura! I LOVE my Z convertible and the service was impeccable. I found the Z online and everything the ad displayed was correct and the car was delivered to my home. Buying this car was an experience I've never had before and it was so easy, fast and just a perfect experience. Thank you Mr. Murray and Gary Force Acura my next vehicle will be purchased from you!
Google Jul 27, 2021
Everyone I know has stories about buying cars. I have a great one! Our salesman, Todd Murray and the Acura team were awesome to work with. We were in and out of cars and other dealerships for about 2 weeks. I got exactly the car I needed, and I am very pleased with the Acura advantage provided at Gary Force Acura.
Google Jul 25, 2021
Highly recommended, staff very professional. They take the time to go over every little detail of your new vehicle (purchased 2021 acura) and make sure you understand. The finance dept also provided excellent service making sure you understand your contract and you are aware of your optional services 😀
Google Jul 22, 2021
We had a wonderful experience at Gary Force Acura! Todd was very helpful and made the car buying experience so easy. I also appreciated Todd being transparent on if there are any issues with anything, to give him a call directly (mostly if it was me not being able to figure out a technological feature on the car, hah!). I'm loving my Acura so much.
Google Jul 22, 2021
Great personal service and professionalism. Our MDX recently had to be towed and left after closing on a Saturday night. We thought it was an electrical problem because of flashing instrument panel lights and car wouldn't start (nor could it be jumped). First thing Monday I called and Tim already had the car in the queue to be diagnosed. He called a few hours later and said it just needed a new battery. This was our first visit as we recently moved into the area. We are very impressed with Tim and his integrity. Wouldn't think of taking ...
Google Jul 16, 2021
Great People, Great Service! I have been a Gary Force customer for years and will continue to use them far all my automotive needs!
Google Jul 15, 2021
Google Jul 13, 2021
Google Jul 8, 2021
Google Jul 8, 2021
The procedure to purchase a new car from start to finish is absolutely seamless. The new car sales associate Mike is second to none. This entire experience well deserves the highest rating possible. It is a pleasure to do business here. All promises are met without fail. I live in Memphis. Called the dealership with an offer and they accepted. Mike picked me up at the Nashville airport the next day and I drove the car home. Gary Force Acura and Mike have truly amazed me! I will continue to do business here for as long as I live. Thank ...
Google Jul 6, 2021
Google Jul 5, 2021
The experience we had a Gary Force was amazing. Ryan answered all of our questions and didn't make buying a car a hassle.
Google Jul 2, 2021
I had my Acura TLX serviced by Gary Force Acura. I had requested a loaner car and when I got there Samatha checked me in and had me on my way in 3 minutes. The loaner was clean and full of gas and was very nice to drive. Samatha called me exactly at what time she said my car would be ready. When I picked up my car I drove right in and signed the documents for service and drove right out. Super smooth. This was one of the best car service visits I have ever had. Thank you.
Google Jul 1, 2021
Friendly, helpful and always a good experience. Thanks Terry
Google Jul 1, 2021
The technicians and staff at Gary force Acura are always professional and helpful. While no one is ever perfect, they do strive for perfection and the service manager Joel Trail runs an excellent department. I have used GFA numerous times and will continue to do so.
Google Jul 1, 2021
We love Gary Force Acura! The service is awesome. We always take our car there for service of any type. I forgot to mention that our last 2 vehicles were purchased here. Everyone is very friendly and helpful! I'm pretty sure my next vehicle will be from them also.
Google Jun 30, 2021
I've had my 2014 MDX serviced here since puchase. Every visit has been a 5-Star experience. My service advisor, Tim Durbin, is the BEST.
Google Jun 29, 2021
Best car buying experience in years. Excellent customer service / low hassle and efficient experience. Trey Butler was outstanding. He has excellent listening and negotiating skills combined with great product knowledge.
Google Jun 28, 2021
Had an appointment for a recall issue, we were in and out in under an hour. Courteous staff
Google Jun 27, 2021
Google Jun 26, 2021
Easiest car buying experience in 25+ years of car buying. I did all of my research and knew what a fair price would be to lease a TLX. I emailed them and asked for a price. Their price was better than I was expecting. It's the first time that I didn't have to go back and forth. I got a better than fair deal on email #1. No hidden games. No tricks. No dealer add ons. I put a deposit down and drove 250 miles the next day to pick up the car. Meeting the people in person was just as ...
Google Jun 24, 2021
Tony took care of my issue like he always does. Thanks Tony.
Google Jun 22, 2021
Yesterday was the first time I've had less than 5-Star service. I noticed my car sitting in the "finished" area for about 20 minutes and expected someone to tell me it was ready during that time. I finally went and stood at the cashier window. She was on the phone, but the tech noticed me standing there and came to say he'd misplaced my paperwork. I had been seated in the waiting area the entire visit watching the paperwork come and go on the end counter, which is exactly where he retrieved it. So, I fell through ...
Google Jun 21, 2021
Google Jun 20, 2021
I had an excellent shopping and purchasing experience at Gary Force Acura. I worked with Mark Thompson and he was friendly, professional, knowledgeable, and easy to communicate with. At no point did I feel pressure to buy, which was appreciated as a woman shopping solo for such a large purchase. I was looking for a specific model and color and he helped me determine the best way to get it and kept me informed as I waited for the vehicle to arrive. It arrived a few weeks earlier than expected, and the actual purchase process was made easy and efficient ...
DealerRater Jun 20, 2021
Had a great experience with Gary Force Acura, and specifically with Terry in the Service Department. He went out of his way to secure us a loaner while our MDX was being checked out and saved our baseball tournament vacation from being a logistical nightmare. Appreciate all of the help and excellent customer service we received from Terry and the whole Gary Force Acura team.
Google Jun 19, 2021
Google Jun 18, 2021
Google Jun 12, 2021
Google Jun 10, 2021
Great service and always completed by the promised time. Tim Durbin and his team are always courteous and knowledgeable about the work that needs to be completed. I highly recommend this dealership
Google Jun 8, 2021
Google Jun 6, 2021
The service team at GFA is awesome! They are super friendly, helpful and professional!
Google Jun 4, 2021
Great experience as always, Tim with the service department communicated well and ensured I was taken care of.
Google Jun 3, 2021
This dealership has always been able to work with my schedule to get my service visits completed with ease. They are wonderful to work with!
Google Jun 3, 2021
Google Jun 2, 2021
Great, friendly service and staff. Vehicle was ready when promised with free wash.
Google Jun 1, 2021
Mike Lowe's is an awesome sales consultant! He shared all the many new enhancements with new vehicles. Definitely will reach out to him with questions.
DealerRater May 29, 2021
Gary Force Acura is one of three dealerships within a 150 mile radius of my house. I had contacted each one, and even a dealership in California where I went to school, and Gary Force offered an unbeatable price upfront. I was completely shocked and thought it was too good to be true. I arrived at the dealership, all the paperwork was prepared for me, and everything explained thoroughly yet efficiently. I am extremely satisfied with the entire process and cannot recommend Gary Force Acura enough. Todd was an amazing salesperson and very transparent. I truly appreciate it!
Google May 29, 2021
Firstly, I'm a huge car fanatic. I study the car market every day in my free time and am always looking at the latest deals. I had to buy a new car in a three day period before moving across the country. I had contacted three other dealers in the southeast and Gary Force Acura gave me the best deal by far within first contact. They blew the competition out of the water and there were no gimmicks. Gary Force Acura is quick, efficient, and transparent. They don't play games, which is rare these days. I arrived at ...
Google May 26, 2021
Tim Durban and staff were excellent, efficient, very helpful and very kind. This is why I have, not one but two. The ladies at the account desk are very warm and thoughtful.
Google May 21, 2021
Google May 20, 2021
As usual - excellent customer service as well as the work completed on my car. Tim provides such professional care and is always polite and efficient!!
Google May 19, 2021
Took a while to get the part I needed but gave me a loaner for 5 days no questions asked. Great place, great lounge area, clean and nice.
Google May 19, 2021
Only acura dealership in Nashville. Friendly service staff and clean location. Second time getting my car serviced and everything went well. Could have had better contact after I dropped off the car but the service and friendliness were very good. Although there is no other Acura dealership close by, they still do a good job
Google May 18, 2021
Google May 18, 2021
Eric Green was our sales representative and he did an amazing job. Eric made the process simple and enjoyable. He has taken the time to make sure we are completely satisfied with the vehicle and service. He has gone above and beyond to make sure we have peace of mind with our purchase. After I had test driven the TLX in black with tan interior but noticed another TLX in black with black interior that I was interested in on Gary Force's website, Eric made sure that vehicle was available for me to test drive immediately. After test driving, ...
Google May 14, 2021
Trey Butter, at Gary force Acura in Franklin, Tennessee, was our salesman and was wonderful as we decided to and purchased my new Acura RDX. As promised, he notified me as soon as the vehicle that I wanted was delivered to the dealership, checked out and available to purchase. I was out of town and could not get into the dealership to buy this vehicle. He suggested that I put down a small deposit, so that he could put a SOLD sign on it, which I did. This 2021 SUV was much in demand, so I was so pleased that he ...
Google May 13, 2021
Google May 13, 2021
Great experience all around. 2nd car bought from Eric Green. He's the best in the business!
Google May 13, 2021
Google May 12, 2021
Peter is amazing! Best salesperson and was not pushy at all! Highly recommend! I have bought two cars here and my mother bought one with me also! Won't go anywhere else!
Google May 11, 2021
Gary Force has the best service department of any local auto dealership. I have done business with them since 2002. I have owned additional cars during this time of different makes. Mercedes, Lexus, Honda, BMW. No other dealer compares to Gary Force for their customer dealings, quality of work, and being fairly priced for their services. These guys put all the other dealers to shame. Service does matter! These guys do it right!
Google May 10, 2021
Peter Corey was a pleasure to work with. Very knowledgable and professioonal. I am excited to drive my new RDX!!
Google May 7, 2021
Service @ GF Acura is the best! Personnel are friendly, efficient, and experienced. All maintenance tasks were handled and the wait time was minimal, plus the area set aside for waiting was comfortable with even coffee and Danish! An easy experience for a mundane errand!
Google May 1, 2021
Google Apr 30, 2021
Google Apr 30, 2021
I truly couldn't be happier with Gary Force Acura or Saleman, Todd Murray. My local Acura dealer couldn't find me the 2022 Acura MDX I wanted. I saw Gary Force Acura had a couple of the MDX's I wanted but they were 200 miles away. I reached out and spoke with Todd about buying the car and he made it so easy for me. I was worried about driving 200 miles and actually getting the deal we discussed over the phone. But Todd did exactly what he promised and more. We had an agreement over the phone and when I ...
Google Apr 29, 2021
Google Apr 27, 2021
I am a Memphis resident who was having issues with my local dealership. After taking it to them 4 times I had enough and Gary Force ( The dealership I bought my certified used vehicle from.) insured me they would take care of me. Not only did they fix the vehicle fairly quickly but they also fixed a tire that Memphis Acura said needed to be replaced without any obvious inspection. Thanks Joel and your crew!
Google Apr 22, 2021
Google Apr 14, 2021
Google Apr 14, 2021
Lenny K He was very professional in all aspects of our dealing with him.
Google Apr 14, 2021
Google Apr 14, 2021
Good service is key! No matter what you're buying, good service can make you enjoy the visit. Thank you Peter for your kindness, professionalism, and helpful/honest information. And the 2022 MDX is a great test drive!
Facebook Apr 10, 2021
I went in for my service at Gary Force Acura for the first time since moving to Tennessee and the service was excellent. I was in and out within 10 minutes of dropping off and picking up the car. They had a loaner car ready for me and I received an update on the car during the day.
Google Apr 7, 2021
Gary Force Acura did an outstanding job servicing my vehicle. Very friendly and polite.
Google Apr 6, 2021
Facebook Apr 6, 2021
My car was just totaled from our recent flood in Nashville. Eric Greene made replacing my 2019 Acura RDX with a new car easy and stress free. I told Eric what I was looking for and gave him a few options I wanted to explore and he was so wonderful to work with during such a stressful time. Thank you Eric for your help! I would truly recommend Eric and Tim, you guys are the best at Gary Force.
Google Apr 3, 2021
Samantha the service advisor was very helpful and professional during my recent visit to this dealership. She gave me prompt updates during the day in regard to the possible transmissions issues i was concerned about.
Google Apr 2, 2021
As always Gary Force Acura service rocks. From online appointment scheduling to drop off and pick is so easy. No surprises or add-ons and very reasonable pricing. Just bought our 5th Acura from Gary Force Acura.
Google Apr 2, 2021
Google Apr 1, 2021
Google Mar 31, 2021
We loved our experience with Gary Force Acura! Trey helped us find the perfect MDX, he was knowledgeable, and he answered all of our questions! I would definitely recommend shopping for your next car here.
Facebook Mar 31, 2021
This dealership provides outstanding service, starting from making appointment, reconfirmation, to the actual service, are simply perfect. The service coordinator are professional and knowledgeable.
Google Mar 31, 2021
Google Mar 30, 2021
Great service with service department. Nice loaner car for the day.
Google Mar 30, 2021
An amazing and professional team from sales to finance and the front room staff. Everyone is so kind. I want to especially thank Lenny our sales guy. He truly went above and beyond to ensure we had a great experience and made all of the process seamless. Lenny is the reason we bought from this dealership and will be the reason we come back! Thanks to the entire team but super big thanks to Lenny! He also did a follow up call to ensure everything was good with us and the vehicle! Amazing!
Google Mar 29, 2021
This is my second SUV from Gary Force and with Eric Green. Eric made it a great experience and is always there with any questions great cars, service and I will return for the my next SUV!
Google Mar 28, 2021
Facebook Mar 26, 2021
Everyone was so nice and my car was ready as promised!
Google Mar 26, 2021
I only buy and trade cars at Gary Force Acura. I personally wouldn't even consider going anywhere else. I purchased many Acuras there over the years and have loved every car!! The Acura quality and reliability is second to none! Gary Force always makes the process so painless! They make you feel like you bought a Bentley! I have also purchased from their used selection, which is very discerning. They are the best in town! I wouldn't trust a car purchase to any other dealer in the region. Gary Force is a rock star!
Facebook Mar 24, 2021
My entire experience with Gary Force Acura has been fabulous!! From sales to service everyone was professional and welcoming. I am a customer for life. Thank you so much.😊
Google Mar 24, 2021
Gary Force Acura has been doing all of the service and maintenance for my 2014 MDX since I bought it new from them. Tim and Tony in the service department are great.
Google Mar 23, 2021
Google Mar 19, 2021
Awesome experience, as usual!
Google Mar 19, 2021
Google Mar 12, 2021
Google Mar 9, 2021
Lenny was our salesperson. We received top attention from the moment we stepped into the dealership. We are in love with our first Acura purchase and are planning on a long future with Lenny and Gary Force Acura.
Google Mar 8, 2021
Excellent service!!! Did not pressure me into buying anything! I was there for a long time due to not knowing which color and options I wanted on my wife's new MDX, he didn't rush me!!! After looking at 5 of them lol, I found the right one!!! This is my second Acura I bought from them, and it want be my last!! Go see Eric!
Google Mar 5, 2021
My scheduled routine maintenance was completed in a timely manner. The staff is polite, friendly, and taking precautions to protect their customers. I am happy to recommend Gary Force Acura.
Google Mar 1, 2021
The service department is knowledgeable and courteous. They also do an excellent job of communicating. I knew exactly how much the charges were going to be before I returned to pick up my vehicle I like their policy of providing a loaner when the service is expected to take a while. I want to commend Tim Durbin for his consistently high quality of customer service over several years.
Google Feb 26, 2021
I found out that my vehicle needed an oil change and I called and got an appointment on the day I was off from work, I was able to get my vehicle serviced when I arrived.
Google Feb 26, 2021
Google Feb 24, 2021
Facebook Feb 24, 2021
Their staff is very courteous and attentive. Their service is impeccable and I would highly recommend anyone to this dealership!!!!
Facebook Feb 21, 2021
I bought a Toyota Highlander last week from Trey and Kurt. They made the process easy and non stressful. I would recommend Gary Force Acura if you are looking to buy a new/used car.
Facebook Feb 17, 2021
Best Acura dealer, service, and sales.
DealerRater Dec 31, 2020
Purchased a 2020 MDX last night and I have been completely satisfied with this whole process.From top to bottom this is the most professional team I have seen.We got a great deal and they covered every detail about the vehicle.If the vehicle is as good as the people that sold us ours,,we are Acura customers from now on