Customer Testimonials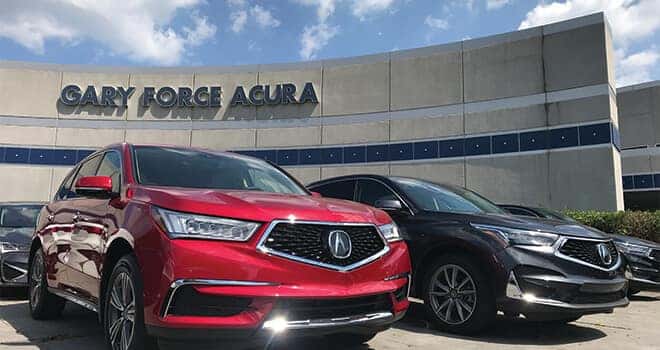 Cars Feb 4, 2023
I am on my second Acura and the service department just keeps getting better. Lance did an awesome job for me yesterday. I highly recommend for sales and service.
Google Feb 3, 2023
Went to the service dept to get wiper blades for my older acura,Jim had them to me in less than a minute, Andy had them installed in less than 5 minutes. In and out in less than ten minutes.Great and courteous Service.Highly recommended
Google Feb 2, 2023
Lenny K. was fantastic to work with. We came in after work later in the evening and he along with the entire staff worked diligently to make the car buying process fast and easy. Lenny hung around well after dealership hours to walk us through all the features and technology in our new Acura before we left the lot. Will definitely be back and will encourage others to visit Lenny and the team at Gary Force. Best in class service!
DealerRater Feb 1, 2023
This is for the sales floor only. (The service dept is another story.) We had a great experience with Todd and would definitely call him with any further car needs!
Google Jan 30, 2023
Google Jan 28, 2023
There is no substitute for relationship. It builds trust in both directions, which takes the stress and worry out of a major purchase decision. It leads to a win-win for both customer and dealership. I have that with Lenny Krakauer and Gary Force Acura.
Cars Jan 25, 2023
I had a great car buying experience at Gary Force Acura, Chris was friendly and honest. Didn't try to high pressure me into buying a vehicle. Was understanding when I said that I wanted to look a few more trucks before I decided what to buy. I can honestly say that my first experience at Gary Force was the best car buying experience I have ever had. Thank you so much for all your help on my truck purchase.
Google Jan 24, 2023
This dealership is trustworthy. The salesman Lenny was very knowledgeable and helpful.
Google Jan 23, 2023
Eric Green was truly Mr Patient. He was a delight to work with and I love my new RDX!
Google Jan 20, 2023
This is our second purchase from Trey Butler and third purchase from Gary Force Acura. Trey goes above and beyond to help us feel comfortable during the purchase process. Cannot recommend this dealership and Trey enough!
Google Jan 20, 2023
I had a great car buying experience at Gary Force Acura, Chris was friendly and honest. Didn't try to high pressure me into buying a vehicle. Was understanding when I said that I wanted to look a few more trucks before I decided what to buy. I can honestly say that my first experience at Gary Force was the best car buying experience I have ever had. Thank you so much for all your help on my truck purchase.
Cars Jan 9, 2023
Everybody was informative and great to work with and it was a good experience. Lenny was great finance was good to thank you great experience.
Google Jan 8, 2023
Professional and courteous !
Google Jan 5, 2023
Thanks, good job with the service.
Google Jan 5, 2023
We met Mike Lowe when we bought our first Acura a 2007 and when we bought our second Acura we again asked for Mike and he helped us through the process. And now we have purchased another Acura and again when we were ready we asked for Mike and he helped us again. When we set up an appointment to meet Mike he had a vehicle picked out, that based on what we told him we were looking for, for us when we got there. Well it was exactly what we wanted and we ended up buying that vehicle. Mike is ...
Google Jan 4, 2023
Cars Jan 4, 2023
I always receive the best service at Gary Force Acura. Tim is awesome. I have purchased three cars from Gary Force Acura and they are my preferred dealership
Cars Jan 4, 2023
After a LOT of research on small SUVs I landed on the RDX. I shopped on Cars.com and found a few, but none locally. I knew Gary Force was one of the only dealers in the area, so I visited them and let them know what I was looking for. Todd and Jeff were honest that they didn't have what I was looking for, but that they would keep an eye out and try to find it for me. Todd still answered all my texts about different RDXs and other cars I found online. He was so helpful ...
Google Dec 31, 2022
Google Dec 29, 2022
I had a great experience with my recent purchase. Trey Butler was phenomenal. He was so responsive and helpful in ensuring I was able to secure the vehicle that I wanted.
Google Dec 27, 2022
Great service from Sales to Finance. They make car buying painless. Eric Green is the best.
Google Dec 16, 2022
Todd was great! Gary Force Acura made the 3 hour drive to finalize paper work late in the evening a fast and quick process. Car was clean and fueled up when we got there. Couldn't ask for a better experience!!!
Cars Dec 14, 2022
Your service department was awesome. The experience was professional, friendly and courteous! The process of obtaining a loaner vehicle was very easy. Thank you for the exceptional visit.
Google Dec 14, 2022
I was very pleased with my experience buying a car at Gary Force Acura and working with Eric Green. The process from start to finish was hassle free. I also greatly appreciated the efficiency of the process because I had a loan already and they were able to provide even better financing due to the certified used car status. I would definitely recommend Eric Green and Gary Force Acura.
Google Dec 13, 2022
Google Dec 13, 2022
Cars Dec 11, 2022
I alway get the greatest service for the vehicles i buy for them this is my second vehicle i bought from them and they have always kept them in tip top condition
Google Dec 9, 2022
Trey Butler was very knowledgeable and great to work with. We looked at many different vehicles at multiple dealerships and most of the sales associates we spoke to had remarkably poor knowledge of the vehicles. We had one associate at another dealership tell us "I've never even sat in this model before". Trey knew every feature, function, and button on our vehicle and made us feel assured that we bought the right vehicle from the right person.
Cars Dec 6, 2022
This is our second vehicle purchase from Gary Force Acura and Mike Lowe! Mike's knowledge and desire to match your vehicle wants and needs with the perfect vehicle is second to none. Mike Lowe is excellent at what he does, and his superior Customer Service is so appreciated! Again, we are very pleased with Gary Force and Mike Lowe's excellence!
Google Dec 2, 2022
Friendly, professional, knowledgeable and responsive. A positive experience
Google Dec 1, 2022
Eric was excellent! Thank you so much. And I love my new car❤️
Google Nov 30, 2022
The service department team at Gary Force Acura is top drawer. They are great to work with and very helpful in maintaining my MDX.
Google Nov 29, 2022
Quick friendly and professional at the parts counter and were able to have most of what I needed in stock and ordered the remainder and had it in within a couple days.
Google Nov 28, 2022
Google Nov 24, 2022
Google Nov 21, 2022
People in service we're professional and very friendly.
Google Nov 21, 2022
We had a wonderful experience purchasing a vehicle from Gary Force Acura. Our salesperson, Chris M., was absolutely fantastic. He was extremely helpful, knowledgeable, and very upfront about everything. There were no cheesy or sleazy sales practices that I've encountered at other dealers. The same goes for our experience with the finance person, Miss Ann. She offered straightforward options without trying to slide something past us. I definitely recommend Gary Force Acura to anyone in the market for a new or used car.
Cars Nov 19, 2022
Was visiting Nashville and had a problem with alternator belt. Very stressful situation being from out of town. Went to the Service counter and Liz took great care of me. Needed to keep the car overnight to get a part but gave me a loaner so we could continue our plans in Nashville. Car fixed the next day and drove home. Very clear explanation of the required repairs and costs. Liz was very personable and pleasant. Excellent service!!
Google Nov 13, 2022
Google Nov 12, 2022
This is a great place, they have best service, Tony was very helpful.
Google Nov 11, 2022
It was a pleasure buying my first Acura at Gary Force Acura. They provide excellent customer service. Tyler kept me informed on the arrival of my new car and was really helpful throughout the purchasing process. Anne made the purchasing procedure simple. She provides amazing customer service and was quite helpful when we were filling out the papers. Thank you guys!!!
Cars Nov 8, 2022
Chris Moosekian & CJ Mohler made our whole buying experience special! They were efficient, professional and SO pleasant & accommodating! They made us feel they were sincerely interested in us as people, not just a potential sale. We hadn't shopped for a vehicle in some time, so were unsure what to expect. It was actually fun with them. The nature of the transaction made it a long process, but I didn't notice the time because we were so comfortable & could tell they were doing everything to keep things moving along. Thank you for helping us to get ...
Cars Nov 8, 2022
This is my fourth purchase from Gary Force Acura and as usual they are very professional and customer oriented. Mike Lowe is very helpful and a great salesperson. I highly recommend doing business with this dealership.
Cars Nov 1, 2022
Just bought a 2019 Acura MDX And Chris M. Was our salesman. When I say he was incredible I am not just saying that. From the test drive, to the time waiting in his office. He was exceptional and made the aspect of spending money FUN! Lol He knows his stuff and he has a personality that shines. CJ the finance manager was amazing as well. They took great care of us and I could not be happier to be a part of the Gary Force family! Thanks for the awesome experience
Cars Oct 27, 2022
We purchased our new MDX from Gary Force Acura since 2014. The sales experience was excellent! Since the purchase, they have performed all the maintenance including tires. I can honestly say, they have been excellent in every category. Just turned 185,000 miles and the SUV still runs like new! An exceptional dealership!
Google Oct 26, 2022
They were willing to work with us on our trade. Our salesman, Trey, was so nice and stayed an hour-and-a-half beyond quitting time to get the deal done.
Google Oct 18, 2022
Chris was great to work with start to finish. Highly recommend Gary Fore and their crew especially Chris.
Google Oct 12, 2022
I have had my cars serviced at Gary Force Acura since 2005. I rate them as the best service department in the area. Great customer service
Google Oct 4, 2022
Trey made our car buying experience so pleasant.
Google Sep 30, 2022
Eric is the absolute best and so easy to work with! I've purchased 3 cars now from him and he takes care of everything ahead of time so I come sign papers and on my way. Eric is the man!
Google Sep 22, 2022
Always great service at Gary Force! Love my Acura MDX!
Cars Sep 19, 2022
We worked with Lenny and he was an absolute joy to work with. He answered every question and went above and beyond to make our buying experience excellent. We would highly recommend this dealership.
Cars Sep 15, 2022
I have bought several vehicles from Mike Lowe. He is open and honest. Easy to work with. I appreciate the professionalism of Mike and the Dealership. I will buy my next car here .
Cars Sep 14, 2022
Excellent service, pleasant and courteous staff. Nice waiting room with drinks and snacks and reading materials. We have been doing business with Gary Force since 1988. Would like to get long time customer appreciation, like giving free or discounted windshield wipes, key batteries. Tim in the Service Department is excellent. Best of the best!😇 Thank you. Saramma George.( Mrs. John George)
Google Sep 9, 2022
Service department are very friendly and helpful
Google Sep 4, 2022
Very personable and professional-service issue fully explained
Cars Sep 3, 2022
The staff is great. Friendly, knowledgeable, engaging. Tim Durbin is the best! He always take care of us, working with us on scheduling, communicating effectively. We've purchased multiple cars from Gary Force and plan to purchase more in the future.
Google Sep 3, 2022
Google Sep 2, 2022
Always done right in a timely manner. Super friendly staff
Google Aug 30, 2022
Phenomenal experience start to finish. So thankful for the entire Gary Force Acura team, but a huge shoutout to Todd Murray for going above and beyond.
Google Aug 19, 2022
Google Aug 15, 2022
Terry Chapman was my service advisor and was very professional. Called with updates and made my life easy. I would highly recommend this dealership for any services or repairs you might need.
Google Aug 13, 2022
Had an unexpected issue, Service Dept took care of my granddaughter's car before leaving for school. Did excellent repair.
Google Aug 12, 2022
Great customer service. Attentive to detail and friendly. Great experience
Google Aug 11, 2022
Google Aug 10, 2022
Cars Aug 7, 2022
Fantastic people and service. I came in with a transmission issue. They quickly diagnosed my car and informed me of the solution. Also let me know the repair cost was covered. They got me in and out promptly and in good shape.
Google Aug 1, 2022
This is my 6th ACURA lease!! This purchase was the easiest, so far. Mike Lowe is a pleasure to work with at Gary Force!!
Google Jul 31, 2022
The service department is the best!
Google Jul 30, 2022
Terry has exceptional customer service and always makes my wife and I getting our Acuras serviced an enjoyable experience.
Cars Jul 28, 2022
I always get great service at Gary Force. Tim Durbin is my go-to guy each time. At times, they may be a little more expensive than other dealerships or maintenance facilities, but it is worth it. They always stand behind their work.
Cars Jul 27, 2022
Sales rep Mike Lowe was great. He really worked hard to find me the vehicle that no other dealerships could. I really like my new MDX A-Spec. The overall experience was fantastic. The dealership was very nice and the service department looked state of the art!
Google Jul 19, 2022
Tim was great. The service department is always amazing.
Google Jul 17, 2022
My service appointment went very well and my service advisor Tim, was very courteous and professional. All the work done was explained in detail. I'm very happy to have purchased my car there.
Google Jul 14, 2022
Thank you Todd Murray for everything! From you keeping us updated and the ease of the purchase. Todd did a great job going over the features and warranties!
Google Jul 12, 2022
Tony is always great, he ensures our vehicles are serviced correctly each time and he & his coworkers are very friendly
Google Jul 12, 2022
This places customer service is extremely amazing first time there Terry was awsome took care of all my questions and car thnxs acura team!!
Cars Jul 8, 2022
Tim is great - I felt like I was in good hands. All of my concerns were addressed that day and I drove away feeling more than satisfied.
Cars Jul 6, 2022
Regular maintenance visit yesterday and Tony had me in and out in less than one hour and 1/2 including the complimentary car wash. 😀I love my Acura MDX and Gary Force Acura has taken good care of it for the last five years!
Cars Jul 1, 2022
Great service and excellent care/concern of granddaughter's vehicle to prepare her school. Go the extra mile to facilitate her needs while I away from Franklin.
Cars Jul 1, 2022
The Service team is terrific, from Tim and others to the receptionists and the technicians! Honest, open, thoughtful, professonal and timely! They do Great work!
Cars Jun 30, 2022
Terry in the service department was so helpful! I live 2 hours from the dealer so he really helped get the service appointment set up and the insurance paperwork taken care of. He had my new parts there and the service was done very quickly!
Google Jun 30, 2022
Sam Lavender was fantastic to work with. I really recommend meeting with him in person, he takes all the sting out of the buying process. I'm a fairly high maintenance customer when it comes to car buying and Sam was on point the whole time and made what's usually a chore into an enjoyable experience while always being transparent and helpful.
Google Jun 27, 2022
Cars Jun 24, 2022
Liz was most accommodating as I was uncertain about the service my husbands car needed. We purchased the car there in 2016 and have been really pleased with the minimal service required and cost.
Cars Jun 23, 2022
I have been a customer of Gary Force Acura since 2000 and I own 2 Acuras. Tony and the service department are the best.. I never have to worry about being overcharged or unnecessary repairs being done . Tony always explain what repairs were done and why.. I trust them fully.. I highly recommend Gary Force Acura..
Google Jun 23, 2022
Best Service Team in town. Always efficient, always professional. Totally satisfied.
Google Jun 21, 2022
Google Jun 17, 2022
Great customer service by the staff, and very pleased with the necessary car repair! It was beneficial to have a loaner car to accomplish errands while repairs were being done.
Cars Jun 16, 2022
My entire experience with Gary Force Acura was amazing from the minute I limped into the service bay until I rolled off the lot! Major repairs were necessary and I received a wonderful loaner car to see me through almost 3 weeks of repairs. Terry Bradshaw in the Service department helped every step of the way with my insurance company, keeping me updated and providing assurances that my much loved RDX would be good as new! Thank you Gary Force!
Google Jun 10, 2022
We just purchased an Acura RDX 2022 and our sales representative Chris was great and very helpful. He spent a lot of time with us explaining the details and gave us a hands on tutorial on using the new gadgets on the car.
Cars Jun 10, 2022
Eric Green rendered excellent service as promised when we bought our MDX last year. Picked up and returned our car, for scheduled service, within 24 hours and provided very nice loaner. Tim Durbin provided excellent comments with our service
Google Jun 9, 2022
This is where you want to buy your car!!! The service is LIT!!!! Kurt Finely will work on your behalf to maneuver through the supply chain issues. My entire buying experience was impeccable!!!
Cars Jun 8, 2022
The service was excellent. The sales person never made me feel rushed or pressured to purchase a vehicle. I did purchase after the test drive because the car was Awesome! Best dealership I have visited since moving to the area 8 years ago.Thank you Todd and CJ!
Cars Jun 6, 2022
Tony Moore and his team were courteous and friendly from our arrival to to the completion of our scheduled service. Very professional and assisted us with all of our questions.
Google Jun 2, 2022
We had a great experience with Gary Force Acura, Todd Taylor made, what sometimes can be a stressful purchase into enjoyable experience. It felt like that hometown family business. I highly recommend Gary Force Acura and remember to ask for Todd!
Cars May 31, 2022
Gary Force Acura is the best of the best. From sales all the way to service. I have owned three Acuras and have been happy with all three. I will always be a part of the Acura Family. Tim in service is amazing and so helpful. Tony is as well. It would be super nice if purchasing tires from your dealership, the would honor competitors pricing; especially when you have loyal customers as well as giving the business back to the dealership versus someone else.
Google May 30, 2022
Todd T was absolutely great! I can't give enough accolades about my experience at Gary Force Acura or about Todd T. We went on many test rides and never was I pressured to make a quick decision. This was probably the best car buying experience I have had and I have purchased 9 vehicles over the years. Thanks to the team for making it an enjoyable and comfortable car buying experience.
Google May 30, 2022
Tony Winfree is an amazing Service Advisor! Got me right in at my appointment time, had the perfect loaner MDX available for my kids and I and had my car ready before the promised time. Always goes above and beyond and it's sooooo very much appreciated!
DealerRater May 29, 2022
My wife and I have purchased several Acura automobiles over the years from Gary Force Acura. We have always been extremely pleased with the sales staff and management and totally trusting of Tim in Service. Our most recent acquisition is an Acura MDX A-Spec model. We have owned two MDX models before this one. While we loved the other two, I have to say that this one is the most comfortable, bust driving, quietest car with the most superb handling of any that we have driven. The equipment packages on the A-Spec model were perfect for us. The adaptive cruise ...