Customer Testimonials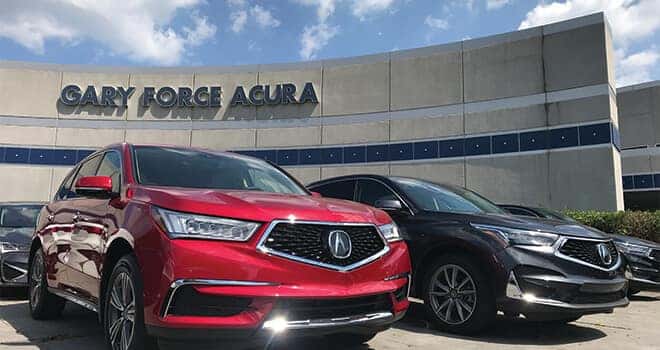 Google Apr 14, 2021
Google Apr 14, 2021
Lenny K He was very professional in all aspects of our dealing with him.
Google Apr 14, 2021
Google Apr 14, 2021
Good service is key! No matter what you're buying, good service can make you enjoy the visit. Thank you Peter for your kindness, professionalism, and helpful/honest information. And the 2022 MDX is a great test drive!
Facebook Apr 10, 2021
I went in for my service at Gary Force Acura for the first time since moving to Tennessee and the service was excellent. I was in and out within 10 minutes of dropping off and picking up the car. They had a loaner car ready for me and I received an update on the car during the day.
Google Apr 8, 2021
Sam Lavender at Gary Force was extremely accommodating, honest, knowledgeable and not pushy at all. We thoroughly enjoyed the experience and look forward to driving this lovely Acura. Thanks Sam and Gary Force Team!
Google Apr 7, 2021
Gary Force Acura did an outstanding job servicing my vehicle. Very friendly and polite.
Google Apr 6, 2021
Facebook Apr 6, 2021
My car was just totaled from our recent flood in Nashville. Eric Greene made replacing my 2019 Acura RDX with a new car easy and stress free. I told Eric what I was looking for and gave him a few options I wanted to explore and he was so wonderful to work with during such a stressful time. Thank you Eric for your help! I would truly recommend Eric and Tim, you guys are the best at Gary Force.
Google Apr 5, 2021
Jordan with Gary Force Acura in their service department was great. Kept us up to date on the progress and helped along the way with questions we had for the services we had our car in for on 4/4/2021. Made sure we had good information to make decisions on and was always friendly and professional. We will definitely continue to bring our Acura cars to Gary Force Acura for our service needs, thanks Jordan!
Google Apr 3, 2021
Samantha the service advisor was very helpful and professional during my recent visit to this dealership. She gave me prompt updates during the day in regard to the possible transmissions issues i was concerned about.
Google Apr 2, 2021
As always Gary Force Acura service rocks. From online appointment scheduling to drop off and pick is so easy. No surprises or add-ons and very reasonable pricing. Just bought our 5th Acura from Gary Force Acura.
Google Apr 2, 2021
Google Apr 1, 2021
Google Mar 31, 2021
We loved our experience with Gary Force Acura! Trey helped us find the perfect MDX, he was knowledgeable, and he answered all of our questions! I would definitely recommend shopping for your next car here.
Facebook Mar 31, 2021
This dealership provides outstanding service, starting from making appointment, reconfirmation, to the actual service, are simply perfect. The service coordinator are professional and knowledgeable.
Google Mar 31, 2021
Google Mar 30, 2021
Great service with service department. Nice loaner car for the day.
Google Mar 30, 2021
An amazing and professional team from sales to finance and the front room staff. Everyone is so kind. I want to especially thank Lenny our sales guy. He truly went above and beyond to ensure we had a great experience and made all of the process seamless. Lenny is the reason we bought from this dealership and will be the reason we come back! Thanks to the entire team but super big thanks to Lenny! He also did a follow up call to ensure everything was good with us and the vehicle! Amazing!
Google Mar 29, 2021
This is my second SUV from Gary Force and with Eric Green. Eric made it a great experience and is always there with any questions great cars, service and I will return for the my next SUV!
Google Mar 28, 2021
Facebook Mar 26, 2021
Everyone was so nice and my car was ready as promised!
Google Mar 26, 2021
I only buy and trade cars at Gary Force Acura. I personally wouldn't even consider going anywhere else. I purchased many Acuras there over the years and have loved every car!! The Acura quality and reliability is second to none! Gary Force always makes the process so painless! They make you feel like you bought a Bentley! I have also purchased from their used selection, which is very discerning. They are the best in town! I wouldn't trust a car purchase to any other dealer in the region. Gary Force is a rock star!
Facebook Mar 24, 2021
My entire experience with Gary Force Acura has been fabulous!! From sales to service everyone was professional and welcoming. I am a customer for life. Thank you so much.😊
Google Mar 24, 2021
Gary Force Acura has been doing all of the service and maintenance for my 2014 MDX since I bought it new from them. Tim and Tony in the service department are great.
Google Mar 23, 2021
Google Mar 19, 2021
Google Mar 19, 2021
Google Mar 12, 2021
Google Mar 9, 2021
Lenny was our salesperson. We received top attention from the moment we stepped into the dealership. We are in love with our first Acura purchase and are planning on a long future with Lenny and Gary Force Acura.
Google Mar 8, 2021
Excellent service!!! Did not pressure me into buying anything! I was there for a long time due to not knowing which color and options I wanted on my wife's new MDX, he didn't rush me!!! After looking at 5 of them lol, I found the right one!!! This is my second Acura I bought from them, and it want be my last!! Go see Eric!
Google Mar 5, 2021
My scheduled routine maintenance was completed in a timely manner. The staff is polite, friendly, and taking precautions to protect their customers. I am happy to recommend Gary Force Acura.
Google Mar 1, 2021
The service department is knowledgeable and courteous. They also do an excellent job of communicating. I knew exactly how much the charges were going to be before I returned to pick up my vehicle I like their policy of providing a loaner when the service is expected to take a while. I want to commend Tim Durbin for his consistently high quality of customer service over several years.
Google Feb 26, 2021
I found out that my vehicle needed an oil change and I called and got an appointment on the day I was off from work, I was able to get my vehicle serviced when I arrived.
Google Feb 26, 2021
Google Feb 24, 2021
Facebook Feb 24, 2021
Their staff is very courteous and attentive. Their service is impeccable and I would highly recommend anyone to this dealership!!!!
Facebook Feb 21, 2021
I bought a Toyota Highlander last week from Trey and Kurt. They made the process easy and non stressful. I would recommend Gary Force Acura if you are looking to buy a new/used car.
Facebook Feb 17, 2021
Best Acura dealer, service, and sales.
Google Feb 15, 2021
I can't say enough good things about Todd, Kurt, CJ and the entire staff at Gary Force Acura. The purchase process was straightforward and incredibly easy. This team fires on all cylinders...pun intended.
Facebook Feb 13, 2021
Great service department and excellent customer service. Shuttle service or a loaner while you wait.
Google Feb 12, 2021
Google Feb 8, 2021
Facebook Feb 6, 2021
Outstanding service, very thorough, and highly qualified team. Recommend them in the strongest sense of the word.
Facebook Feb 5, 2021
When it's time to buy another car, I will be returning to Gary Force Acura. Mike Lowe definitely is there for more than just the sale. When we had a battery problem on a recent trip, I didn't know who to call, so I turned to my salesman. His advice was spot on, and he helped turn an unpleasant predicament while traveling into a non-event. Thanks Mike!
Facebook Feb 5, 2021
My first time here was the best experience I had. The gentleman when I pulled up was very nice and pleasant, told me how long it would and gave me a free car wash. I loved it. I took my 2004 Acura MDX for airbag recall. They kept they word and got me at the exact time. Great people.
Google Feb 3, 2021
I recently purchased my 6th new Acura since 2012, this one a 2021 TLX-A-Spec with all-wheel drive (AWD). This was my first contact with Gary Force Acura (GFA), though I had previously bought from a Charlotte, NC dealer and more recently from a dealer in Austin, TX. I requested a quote from GFA because I was delivering my 2019 TLX to my daughter in the Nashville area and wanted to have the newer version to drive back to Texas. Several things about GFA stand out. First was their willingness to negotiate the transaction by phone. Many auto dealers insist on face-to-face meeting with ...
Google Jan 29, 2021
Stopped by to look at a couple of used SUV's and met Sam Lavender. The used vehicles fell short of the options I was looking for. Sam suggested we look at a couple of Certified 2020 Acura RDX models. His knowledge about the features of the vehicles is exceptional. No pressure, test drive showed the handling was very good. A couple of hours later we owned a beautiful RDX A-Spec. All staff we worked with were professional and friendly. Thanks to the Gary Force Acura team!
Facebook Jan 17, 2021
Trey helped me buy my new ride!! Super happy with all the service!! No pressure sales experience was a plus!!
Google Jan 17, 2021
Google Jan 13, 2021
Everyone was helpful at the service department. They were fast and professional.
Google Jan 13, 2021
Gary Force service is the best I have ever experienced.
Google Jan 7, 2021
I got service done on my Acura. Has a nice waiting room and they were quick with my service. I will return for service in the future.
Google Jan 5, 2021
Great working with Sam to make our decision effortless. Very knowledgeable, friendly, and accommodating with every question my wife and I had throughout the entire buying process. Superb experience.
Google Dec 31, 2020
Great dealership! Have been respectful of my time and taken great care of my MDX.
DealerRater Dec 31, 2020
Purchased a 2020 MDX last night and I have been completely satisfied with this whole process.From top to bottom this is the most professional team I have seen.We got a great deal and they covered every detail about the vehicle.If the vehicle is as good as the people that sold us ours,,we are Acura customers from now on
Facebook Dec 30, 2020
I am on my second MDX and Agartala Force has always been there to keep them both in good running condition. My 2018 has almost 100,000 on it and runs great!
Google Dec 23, 2020
Lenny was amazing and made sure I was comfortable with every setting in my new car.
Google Dec 17, 2020
Nick in the service department was very helpful and explained everything. When I got there to pickup up my SUV, I was told it was being cleaned. The guys in service came in letting me know my car would be right out. Great customer service by everyone.
Google Dec 15, 2020
Nick was so awesome! They made it so convenient to have my car serviced there. Fast turn around and awesome communication. Thank you again!
Google Dec 14, 2020
Google Dec 14, 2020
Great customer service and the process of the vehicle purchase was easy and low stress. Really enjoying my newly purchased Acura.
Facebook Dec 13, 2020
Gary Force has great customer service. This is the 2nd Acura where I've used the services. They assure you have a car to replace your car while it's being serviced. I purchased from them as well and recommend them to anyone that has or interested in an Acura.
Google Dec 10, 2020
Hands down, some of the best customer service I've ever experienced. I began my day of car buying with very low expectations for an enjoyable experience and was pleasantly surprised by Sam Lavendar and this dealership. I never once felt pressured or cajoled, my first time questions and hesitations were handled with respect and care and they made every effort to make the whole experience as smooth and painless as possible. I hope to never have to buy a car from anywhere else ever again!
Google Dec 9, 2020
I really appreciated the helpful, friendly and efficient salesperson Trey Butler. Other dealerships' personnel were not as eager to please. Looking forward to my Gary Force Acura experience ahead.
Google Dec 9, 2020
Lee Hoppe and the management team at Gary Force Acura made my car buying experience so smooth and easy, actually enjoyable. I will definitely refer the dealership to family and friends. I will be back for future purchases.
Google Dec 4, 2020
Facebook Dec 4, 2020
Excellent customer service!
Google Dec 4, 2020
Very friendly and the service was very good.
Google Dec 3, 2020
I have bought two cars from Gary Force Acura, and I don't believe that I could have gotten a better car buying experience from anywhere else. From my initial phone call to driving away with my new beautiful TLX, my salesman, Mike, was exceptionally helpful, kind, and courteous. He made sure my every car buying need was met, and made the process as quick and seemless as possible. Pair that with driving away with a beautiful, fun to drive TLX, that also has every luxury feature that you can imagine, along with Acura's reliability built in, and you ...
Facebook Dec 1, 2020
Eric was great to work with and we love the car.
Google Dec 1, 2020
We had a wonderful experience purchasing our Certified RDX SUV from at Gary Force Acura. Lee Hoppe, our sales associate, found the car we were looking for and called us immediately when it was traded in. We absolutely love it - drives great and Lee has already followed up with us to make sure we are happy. We look forward to working with him in the future.
Google Nov 30, 2020
Google Nov 28, 2020
My wife and I were researching SUVs, looked at several different cars and dealerships, and decided to buy from Gary Force. We had a 2008 Acura RL and liked it. We bought a 2018 Acura RDX for my wife's use. She loves the car, already familiar with Acura. Eric was our salesperson. He was excellent! Eric is very experienced and knowledgeable. There were a few minor issues with the car, and he handled everything for us, working with his Service Department. We settled on a fair price, printed all service records and a Carfax report for this one owner car serviced ...
Google Nov 25, 2020
This is how you buy a car. Gary Force Acura was very easy to work with during the purchase. We performed our own research and requested quotes from four dealers. We did not shop the quotes so no one received an advantage. Gary Force Acura beat them all.
Google Nov 22, 2020
Todd Murray (sales) and CJ Mohler (finance) was the absolute best! The entire process was seamless! Definitely would recommend to ANYONE!!!
Google Nov 17, 2020
I purchased a certified pre-owned Acura MDX from Lee Hoppe and found him to be a great easy going guy to work with. The price was very fair and they gave me a good credit for my 2005 MDX, named "the war wagon", it had seen a lot of miles. I have always been happy with the service department. I am a happy customer of Gary Force Acura and Lee Hoppe is the man to buy your cars from. Joel
Google Nov 17, 2020
Going to Gary Force Acura was a dream! Lenny Krakauer is your guy. He's honest, knows everything about the cars, not pushy, and overall JOY to work with! Amazing customer service! Thanks GF crew.
DealerRater Nov 16, 2020
For maintenance of my vehicle. Acura and Mazda Excellent workers to work with and always accommodating for the needs of their customers. They always do a once over on your car and will let you know if more work is required then they will explain of it's importance and allow you determine if you what it done or not. Congrats to Joe Trail and his team!
Google Nov 16, 2020
Excellent workers to work with and always accommodating for the needs of their customers. They always do a once over and will let you know if more work is required then they will explain of it's importance and allow you determine if you what it done or not. Congrats to Joe Trail and his team!
Google Nov 16, 2020
Always receive professional and excellent service!!
Google Nov 14, 2020
My daughter's ILX needed a headlight replacement and I took it in without an appointment. The Service Adviser asked if I needed anything else and i mentioned it would be back in soon for timing belt replacement and the oil life was at 30%. He said he would mention it to the Technician. After a reasonable wait and a very reasonable repair cost, my Adviser said the Technician actually checked the condition of the belt and reported it looked great. Great news for a car with 102,000 miles. And no charge for the inspection. Another reason we just bought a 2020 MDX.
Facebook Nov 13, 2020
Hey. Hello everyone. Let me share about my first car, Rdx. This is a perfect car. I really like it. I thought for a long time and also referred to many models, and finally chose aucra rdx. I am very grateful for my new sales. His name is Sam Lavender. He is a person who can help you with all your problems. very good ! I recommend that everyone can choose him to complete your joining the Aucra family. Happy to everyone
Google Nov 12, 2020
Scheduled Maitenance appointment online hassle free. Showed up for my appointment, met with Nick who made the process as smoother than I could have ever imagined. Was warm and inviting answers all my questions and did a great job getting me back on the road quickly and safely.
Google Nov 10, 2020
This was my 3rd car from Gary force acura. top notch dealership My salesman was great My finance officer was very thorough and professional
Google Nov 8, 2020
Our salesman, Todd Murray, was excellent. He negotiated well and in good faith, brought our new car to us, communicated promptly, and quickly made sure a repair was made to the car after we detected a minor issue while test driving. Great service!
Google Nov 7, 2020
Thanks to Sam L. for helping us get a new Acura
Google Oct 31, 2020
Google Oct 29, 2020
Gary Acura and staff did a great job repairing my vehicle.
Facebook Oct 28, 2020
I have Acura TLX and had an engine message appear on the dash. I called Tony W at the service department. He was kind, courteous, and professional. He took care of the problem and had my vehicle back to me within 6 hours of taking it there. Plus, my car was filthy and they washed it for me. Tony called me twice while it was there to update me on the process and what was going on. He is wonderful and a great asset to your team! Thank you very much Tony!
Google Oct 23, 2020
Excellent experience. Just leased my second Acura from Gary Force Acura in Cool Springs. The sales dept and service dept are both excellent. My salesman was Peter Corey and I highly recommend him.
Google Oct 23, 2020
Google Oct 22, 2020
I Highly Recommend Gary Force For All Your Acura Needs.Service Dept Was Friendly And Tim Kept Us Updated On Process.Was Done In Timely Manner. Great Service.
Google Oct 22, 2020
The team at Gary Force Acura was absolutely top notch. They treated me with respect and full transparency throughout my purchase experience. I highly recommend purchasing from them.
Google Oct 21, 2020
. The service was excellent. Nick was very professional and accommodated the timeline quicker than anticipated. Much appreciate the ride and pick up to the mall.
Google Oct 18, 2020
Gary Force service dept has always done a great job and the service writers are very professional and nice. No complaints at all.
Google Oct 14, 2020
Google Oct 14, 2020
Facebook Oct 13, 2020
Sam, is the best sales man ever I saw he is very humble and knows how to explain to his customers and very very decent and also the finance team also is very cooperative to get you the best financial options.
Google Oct 9, 2020