Customer Testimonials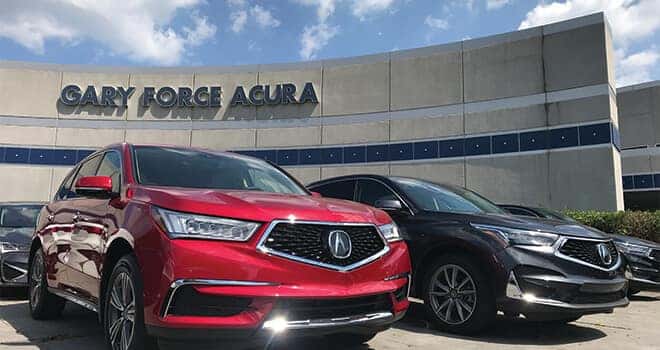 Cars Jan 21, 2022
Tony was great, always willing to help. I appreciate him greatly, he is an asset to the dealership. Look forward to next service with his assistance.
Google Jan 18, 2022
Cars Jan 17, 2022
I was shown a professional service team. I was kept up to date for every step of the process and was able to utilize a loaner during the lengthy wait for the needed part to come in. Tony answered all of my questions and was very sympathetic to my unexpected needs. This was my first time utilizing the service department and I was pleasantly surprised with the high level of customer service. Thank you for showing you take pride in your work and have a goal to ensure your customers are satisfied.
Cars Jan 13, 2022
Great service from start to finnish. Car was completed, cleaned and returned as promised. Terry kept me informed as the work was being completed. Thanks for the service.
Google Jan 12, 2022
Just traded in my 2019 Acura for a new 2022 model at Gary Force Acura in Brentwood. The entire transaction was easy and stress free. My salesman was Sam Lavender. He was great to work with. Great experience.
Google Jan 8, 2022
Cars Jan 6, 2022
As always, this dealership and specifically the service team provide an overall great customer service experience. The only reason I did not rate this visit excellent was because they forgot to reset the maintenance Minder on the car.
Google Jan 5, 2022
(Translated by Google) Beautifull (Original) Hermosa
Google Dec 31, 2021
We have been customers of Gary Force Acura, Brentwood, TN for many years. In fact, we have purchased or leased 13 vehicles there over the years. The vehicles speak for themselves for their quality and performance. Better yet, the management, sales, parts and service people there, are top notch and provide unmatched assistance and service among their peers. That's what keeps us coming back and recommending them to everyone!
Google Dec 31, 2021
Google Dec 29, 2021
Google Dec 28, 2021
Great service I really enjoy this dealership
Cars Dec 27, 2021
Experience with everyone I met during my vehicle purchase was outstanding and enjoyable, so professional and informative on all aspects of the purchase processes. Mr. Green did superb and excellent job handling everything I required as a client. Appreciated it all greatly.
Google Dec 23, 2021
Amazing customer service. Sam Lavender made the car buying experience enjoyable and effortless.
Google Dec 22, 2021
I had a great experience at Gary Force Acura. Trey Butler provided great customer service. He kept me abreast of the status of my 2022 Acura MDX, during the building stage. He is a great person to work with. Very thorough and caring attitude!
Google Dec 21, 2021
Google Dec 20, 2021
Google Dec 18, 2021
Terry and the service department at Gary Force is the best anywhere. They have you in and out at both check in and check out. You don't spend wasted time dropping off and picking up your car. They are prompt, courteous, fairly priced and have excellent communication with you. I would recommend them to anyone who is wondering.
Google Dec 17, 2021
The service team is amazing! Tim did a great job explaining what needed to be done and the estimated cost.
Google Dec 16, 2021
Cars Dec 15, 2021
Ryan was amazing from the first handshake! A great experience. The professional attitude permeates this dealership. C.J. Followed up with stellar treatment. Thank you to Gary Force Acura for coming through again.
Cars Dec 13, 2021
Gary Force Acura is the best dealership and the most professional, and has excellent personal customer service. We had a trailer hitch installed and a minor repair to the Bluetooth system and they even found a problem I had not noticed and repaired it too under warranty. They are totally trustworthy and do a great job. Very pleasant to work with.
DealerRater Dec 12, 2021
We had a great experience at Gary Force Acura! Trey was wonderful! He kept us informed during the entire process and went above and beyond to make sure that we had a great buying experience. We worked with Trey in person, through texts, and via email and he was able to have everything ready for us the day we picked up our vehicle. If you are like me and hate spending all day at the dealership, Trey is your guy because we were in and out in under 2 hours and that included the test drive. I highly recommend the dealership ...
Cars Dec 11, 2021
We always contact Tim when scheduling a service. He is the best. He answers all of our questions and his recommendations are sound and reliable. He makes us feel very comfortable and we would unconditionally recommend him and Gary Force Acura to anyone. Todd in Sales is awesome, too. We first met him in 2019 when we bought our MDX. The guy is amazing and always calls me by my last name when we drop our car off even though we don't service our cars but once a year. I wonder what his secret is in remembering people's names ...
Cars Dec 10, 2021
cant say enough great things about not only my sales consultant Sam Lavender but the ENTIRE staff from sales, service, office staff, finance, management , and all support staff. Sam is AWESOME highly recommend seeing him if in the market for a car. great all around experience from start to finish. HIGHLY RECOMMEND Gary Force Acura...
Google Dec 7, 2021
I love coming to Gary Force Acura to have my vehicle serviced. The staff is always friendly and makes sure to go over all of the services scheduled and any further recommendations for my vehicle. Thank you GFA for the great customer service over the years!
Google Dec 3, 2021
Google Dec 3, 2021
I can't say enough great things about the team at Gary Force Acura. My salesman David Allen found the vehicle of my dreams color combination etc. and made the entire purchasing process an enjoyable stress free experience. CJ did my financing, explained my options with everything in detail and Beau Brannon the technology specialist/wizard helped me understand all of the bells and whistles that my amazing 2022 RDX has to offer. It is my second purchase from Gary Force and they are the reason if I am in need again of a perfect buying experience will continue coming back ...
Google Dec 2, 2021
Cars Nov 30, 2021
Sam Lavender was incredibly patient and knowledgeable as he worked with this elderly, technologically-impaired customer. After his explanation of the sound system and safety features, I was confident enough immediately to drive back to Memphis. What a delightful vehicle! And what a delightful sales experience!
Google Nov 27, 2021
I highly recommend Gary Force Acura in Brentwood. My consultant was Todd Murray, and I can't say enough good things about him. He was a great help, never pushy (like a lot of salesman). It was an awesome experience, and I love my car!
Google Nov 25, 2021
Cars Nov 25, 2021
Amazing service ! Huge shout out to Todd in Sales, and Tim in Service! Appreciate Todd for making the sales process easy and stress free Appreciate Tim for always providing amazing service on my car and amazing customer service.
Google Nov 23, 2021
Fantastic service, excellent staff, and I completely trust their advice and guidance in keeping my vehicle in top shape. Wonderful experience.
Google Nov 21, 2021
Google Nov 20, 2021
My husband and I had an excellent experience. Mike was great to work with! He was very kind and easy to work with. I love how he gave us all the information we needed but was not pushy. Everyone at the dealership was friendly. Definitely would recommend buying a car here!!!
Google Nov 19, 2021
Cars Nov 18, 2021
Gary Force Acura in Brentwood, TN is the best for customer service! Joel Trail worked persistently until he received the the parts needed for my Acura (approx. 6 months to receive the item my car needed) He kept me informed!!! Joel's persistence on assisting me, defines Great Customer Service!! Terry was my customer service person and he was great! I had a car to drive while I waited and he kept me informed regarding the time my car would be finished! Eric was my car salesman 4 years ago and he was so helpful in helping me make a decision on ...
Cars Nov 17, 2021
Very good service. I just purchased my third car from them. My last two were from Lenny Krakauer. I highly recommend him. Sales with knowledge and likeability.
Cars Nov 16, 2021
Todd in sales and Tim in service...are my guys! They've taken care of me since I moved to Nashville nearly 4 years ago. I can't recommend them or Gary Force enough. Great facility with great people!
Cars Nov 16, 2021
As always, great service! Had to reschedule a couple of times because of "life", but they were very accommodating and always friendly! We will not use anyone else for service!
Google Nov 16, 2021
Cars Nov 15, 2021
Excellent service!!! Tim at Gary Force let me know my car was being serviced, kept me up to date with work being done, and let me know when it was close to being finished. He answered all my questions and was extremely helpful in helping me with avoiding the problem I had in future. The service department always exceeds my expectations. Tim is very knowledgeable, respectful and courteous. I've been an Acura driver since 1983. This same dealership has continued to service all our cars with excellence.
Google Nov 13, 2021
Eric Green was excellent to work. He is extremely knowledgeable and very customer focused in all the right ways! We will gladly recommend him when the opportunity arises!
Google Nov 2, 2021
Everything was fine! Thanks, Ed
Google Oct 29, 2021
Super professional team especially Mark Thompson very knowledgeable person, and I love the environment of the dealership. Overall it was a great experience buying a new car (Acura MDX Aspec 2022). Thank you Gary Force Acura.
Google Oct 27, 2021
Google Oct 21, 2021
Terry was excellent, very knowledgeable, listened to my concerns. He went over everything when I picked up my car. Great service!
Google Oct 19, 2021
Cars Oct 17, 2021
Excellent service dept. Tony was very polite and always great at explaining the service. This dealership does good work and can be trusted to honestly evaluate what needs to be done.
Google Oct 16, 2021
Eric Green worked very hard to get our car delivered to the dealership in a timely manner. He was very patient with me on our several phone calls. thanks He's going to give us some tech guidance next week. There's so much to learn on our new MDX. This my 7th Acura from Gary Force and we love our new MDX Advance. We have never had any issues with any of our Acura's and I'm sure our new one will be no exception. Thank you Gary Force Acura for another great experience!!! 😃 Sincerely, Bill and Susan ...
Google Oct 14, 2021
I was helped by Eric buying my first car! I had a great experience! He was so helpful in helping my find a car to perfectly fit my needs! He went above and beyond to make sure I was happy with my purchase and even after!! Exceptional customer service!
Google Oct 9, 2021
We bought a new RDX and our sales rep, Sam Lavendar, did a great job. He was extremely knowledgeable and he strived to meet our needs. He showed us a few different RDX including new and used. When the color and package we wanted came in it was supposed to be a loaner. Sam was able to get it for us the next day. It had two miles on it when we test drove it. We drove it home that day. Sam did a great job following up after the sale as well. He scheduled the installation of our accessories ...
Google Oct 5, 2021
Cars Oct 3, 2021
Lenny has always taken such great care of my husband and I. He is very thorough and knowledgeable! The service department is great as well!
Google Oct 3, 2021
Its probably the most enjoyable car ever purchased. Lenny was a true pro it's been year's since I felt trust in a automobile dealership thankyou for making this painless
Cars Sep 29, 2021
I GOT THE ABSOLUTE BEST SERVICE EVER... By far the easiest car buying experience EVER! I would recommend that anyone looking for a great selection of cars, LOOK at Gary Force Acura for their next automobile!
Google Sep 29, 2021
Totally professional and helpful with my car purchase. I most certainly will purchase other vehicles from Gary Force Acura.
Google Sep 29, 2021
My wife is in her third Acura in 20 years and I just recently got into my second, all from Gary Force Acura. We have always had a good experience from purchasing, through servicing, and trading. We highly recommend them as a dealer as well as there products and friendly services.
Google Sep 24, 2021
The dealership repaired a tire issue that happened on my way to work in a fast and efficient manner. Went above and beyond to work me into their busy schedule. I have all routine maintenance performed there and have always had a great experience with Gary Force Acura.
Google Sep 23, 2021
I had a problem with my Acura MDX and notified my service expert Tim Durbin. He pounced on it and reassured me they would take care of it. I have nothing but great service from him and Gary Force Acura. That is why my 200,000 mile MDX keeps coming back to them. Thanks so much Tim Durbin.
Cars Sep 21, 2021
Gary Force Acura is the best…. They go above and beyond their customer service is top notch! I love this dealership I couldn't imagine purchasing a car anywhere else. Our salesman Ben was so nice and professional. I would highly recommend Gary Force Acura to anyone who's looking to purchase a new or even used vehicle.
Google Sep 20, 2021
Google Sep 17, 2021
Even thought the availability of new vehicles is not good we were able to secure one through the efforts of Trey. Very professional and responsive to our needs. Thanks!!!!
Google Sep 12, 2021
Anytime my Acura needs service it's a no brainer to bring it to Gary Force. It's easy to schedule an appointment online and you can even select if you need a loaner (which I usually do if it's anything more than just an oil change), shuttle ride or if you'll wait. If you need a loaner they have it waiting for you when you drop your car off. It's a seamless process from start to finish. The complimentary car wash always has my car looking great when I pick it up as well. Prices for ...
Google Sep 12, 2021
Tim Durbin was very good to work with. I appreciate his patience and his courtesy.
Cars Sep 6, 2021
I bought my original Acura Legend from Guy Force Acura as well as every new Acura since then. The reason for that long purchase history with the them is the quality of both their service, sales and management teams. Whether it is Tim, Joel, Mike Green, or Kurt, I have received exemplary service and attention to any problems I have experienced. My next Acura, whether a new RDX or TSX, will be from Gary Force because I love working with professionals who espouse the virtues of truth, honesty and transparency.
Google Sep 4, 2021
Sam Lavender was very knowledgeable and thorough. He spent ample time explaining the features of the car and how they compare to other trim levels. I feel confident that he guided me to the right decision. I love my new car, and love the red seats!
Cars Sep 4, 2021
Tony at Gary Force Acura was a great help to get our 2012 RDX ready for our teenager to start driving. He called and texted us to communicate the needs for the car. He was upfront about the cost and did not pressure us in our decision. He was also very patient with my follow up questions. Overall, a great experience at this dealership. Michelle S.
Google Sep 2, 2021
This was the best car buying experience we've ever had thanks to Sam Lavender. Sam was extremely informative and quick to respond to our texts. Thanks, Sam!
Google Aug 31, 2021
I have an RDX and always bring it here for service. They are always nice,professional and timely. I highly recommend the service department.
Google Aug 30, 2021
Gary Force Acura is a very good place to buy a vehicle. The team is very friendly and the sales person, SAM who we dealt with is very good. He helped us in understanding in and out of the vehicle. I would definitely recommend everyone for Gary Force Acura if we really want to buy a vehicle. No additional charges as such when compared to other dealers. They are very transparent.
Google Aug 29, 2021
Cars Aug 26, 2021
I truly can not remember the last time I enjoyed purchasing a car. Mike L. made this purchase as simple & enjoyable as anyone could.
Cars Aug 24, 2021
Eric was great! He was friendly and very helpful. I went in for service and my car was nearing the end of lease and I was able to get a great deal to end my lease a few months early. The whole process was painless.
Google Aug 21, 2021
Eric Green offered the best sales experience of my life. No hassle no push and listened to me. Fastest process to get in and out ever. So good we bought a 2nd Acura on the spot. Eric gets the next one too. And Oh BTW Eric is delivering our 2nd Acura into KY 3 hours away so we didn't have to drive back to TN today.
Google Aug 21, 2021
High level of customer service. Selling and servicing highly reliable automobiles. Service department is top notch. We rely on Gary Force Acura service department for maintenance on our 2018 RLX hybrid. Love that car! Great ride and interior comfort. Awesome fuel mileage.
Google Aug 18, 2021
Great experience with Gary Force. Very easy to deal with! Love my new Acura!
Google Aug 18, 2021
Google Aug 17, 2021
Google Aug 12, 2021
Tim is excellent! Thanks for the great work
Cars Aug 12, 2021
Excellent customer service, I've always had nothing but excellence when bringing my vehicle in for service…even though I purchased it elsewhere. Guess where I'll be going for my next vehicle? Gary Force Acura!!!
Google Aug 12, 2021
Excellent customer service!!
Google Aug 11, 2021
David Allen is extraordinary!!!! He made my purchase pleasurable , definitely I will recommend to my friends .
Google Aug 11, 2021
Google Aug 10, 2021
Google Aug 7, 2021
Exceptional customer service. Easy to schedule an appointment. Wait time was right on time. Very courteous and helpful.
Google Aug 7, 2021
Tim Durbin is the best he is a loyal employee and knows how to treat the customers it's a pleasure to interact with him!
Google Aug 4, 2021
Service Department: No delay/immediate check in, fast service exactly as discussed, fair service fees as well as making customers feel valued, all rare in today's auto dealership/auto service world. Gary Force Acura has a great reputation which is why I decided to go there in the first place. I'm glad I did. They have another loyal customer.
Google Aug 2, 2021
Had a great experience. Beau Brannon was exceptional in helping me get my wife a 2022 Acura MDX Advance. He is super helpful and had most the paperwork done before I got there. Very easy people to talk to and they all made me feel welcome but Beau was outstanding. I usually dislike car dealerships in general but this place was great.
Google Jul 31, 2021
Purchased a RDX from Gary Force Acura and the salesman, Mike Lowe, was outstanding. Their service manager, Joel Trail, also is excellent and operates a top notch service department. This is a super dealership to deal with.
Google Jul 31, 2021
I always appreciate the staff at Gary Force Acura. This time I worked with Samantha. She was friendly and professional. She kept me updated, which is very important to me. The reason for my 4 star review is that I dropped my car off with the expectation of getting my vehicle back later that day but my vehicle was not ready until mid-morning the next day. I intentionally scheduled the service for my day off since this is a 45 minute drive one way and having to pick up my vehicle in the middle of my work day was very inconvenient.
Google Jul 30, 2021
Thank you Todd Murray auto sales professional with Gary Force Acura! I LOVE my Z convertible and the service was impeccable. I found the Z online and everything the ad displayed was correct and the car was delivered to my home. Buying this car was an experience I've never had before and it was so easy, fast and just a perfect experience. Thank you Mr. Murray and Gary Force Acura my next vehicle will be purchased from you!
Google Jul 27, 2021
Everyone I know has stories about buying cars. I have a great one! Our salesman, Todd Murray and the Acura team were awesome to work with. We were in and out of cars and other dealerships for about 2 weeks. I got exactly the car I needed, and I am very pleased with the Acura advantage provided at Gary Force Acura.
Google Jul 25, 2021
Highly recommended, staff very professional. They take the time to go over every little detail of your new vehicle (purchased 2021 acura) and make sure you understand. The finance dept also provided excellent service making sure you understand your contract and you are aware of your optional services 😀
Google Jul 22, 2021
We had a wonderful experience at Gary Force Acura! Todd was very helpful and made the car buying experience so easy. I also appreciated Todd being transparent on if there are any issues with anything, to give him a call directly (mostly if it was me not being able to figure out a technological feature on the car, hah!). I'm loving my Acura so much.
Google Jul 22, 2021
Great personal service and professionalism. Our MDX recently had to be towed and left after closing on a Saturday night. We thought it was an electrical problem because of flashing instrument panel lights and car wouldn't start (nor could it be jumped). First thing Monday I called and Tim already had the car in the queue to be diagnosed. He called a few hours later and said it just needed a new battery. This was our first visit as we recently moved into the area. We are very impressed with Tim and his integrity. Wouldn't think of taking ...
Google Jul 16, 2021
Great People, Great Service! I have been a Gary Force customer for years and will continue to use them far all my automotive needs!
Google Jul 15, 2021
Google Jul 13, 2021